Description
The TL-5102MP PersonalCare+ Motion Sensor with Caregiver Pager System is perfect for in-home caregiving. This simple, streamlined system comes complete with one motion sensor and one caregiver pager. The caregiver pager has an audible alarm and is small enough to be carried in a pocket or clipped to a belt. This one to one system alerts the caregiver of a resident‰'s activities when the resident crosses through the motion sensor's infrared field as long as they are within 300 feet of eachother. The motion sensor can be mounted to the wall next to the bed or near a doorway. The motion sensor will not disturb the resident with a loud alarm or flashing lights; it eliminates in room noise and helps maintain a low stress environment. The tone/chime on the pager is adjustable and it is easy to use.
Benefits
Quiet - The motion sensor only rings the pager that the caregiver is carrying. It will not disturb the loved one or patient.
Affordable - Low-Cost but effective way to help care for a loved one or resident.
Easy to use - Simply insert batteries and it's ready to use and mount the motion sensor; no programming necessary!
Features
One to One system; perfect for in home use.
Minimal set up, just put in batteries, mount the sensor and you are set.
Audible alarm in pager so that the caretaker knows the patient or loved one is in need of assistance.
Pager is pocket sized and convenient to carry
Quiet; unlike most monitoring systems this does not disturb the loved one or resident with a loud alarm or flashing lights.
90 Day Warranty
Included With: TL-5102MP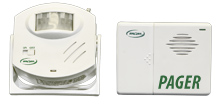 System Includes:
1 Motion Sensor (batteries not included)
1 Caregiver Pager with Audible Alarm (batteries not included)
2 Screws
2 double stick tape strips
Caring for an elderly parent at home? Here are some tips.