Description
The TL-5102TP PersonalCare+ Pager System is perfect for in-home caregiving. This simple, streamlined system comes complete with two nurse call buttons/call bells and one caregiver pager. The caregiver pager has an audible alarm and is small enough to be carried in a pocket or clipped to a belt. This Two Pendant Paging System alerts the caregiver of a resident‰'s needs when the resident presses one of the nurse call buttons (within 150 feet).
Benefits
Versitile - The buttons may be mounted on the headboard of a bed, worn as a pendant around the resident's neck, or even carried around in the residents pocket.
Affordable - Low-Cost but effective way to help care for a loved one or resident.
Easy to use - Paging system comes already programmed. Simply insert the supplied batteries and it's ready to use.
Features
The two different buttons in the system allow one to be held/worn on the person and another button to be placed in the bathroom or other area they may need assistance.
Comes programed so you don't have to worry about setting it up, just put in batteries and you are set.
Audible alarm in pager so that the caretaker knows the patient or loved one is in need of assistance.
Technical Specs
Call Button Size: 2.0" diameter x1"
Pager Size: 3.0" x 1.0" x 2.5"
Smart Caregiver Personal Patient Alarm Paging System Warratny: 60 day warranty.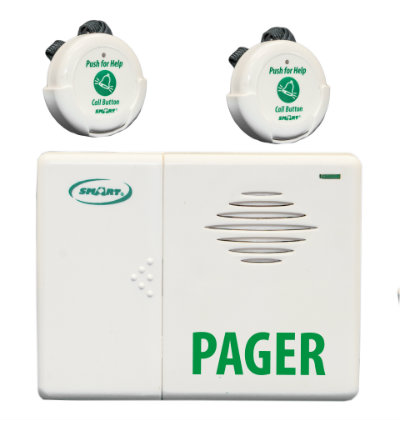 Included With: TL-5102TP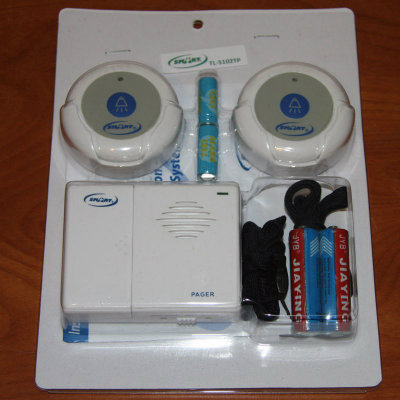 System Includes:
2 Nurse Call Buttons
1 Caregiver Pager with Audible Alarm
Replaceable Batteries
Lanyards to Wear Buttons Around Neck
Button mount for wall/bed
Caring for an elderly parent at home? Here are some tips.