Description
This kit includes:
1/ea Wireless visual call light and audible alarm (2007-ECA)
1/ea Wireless bathroom pull cord (2007-CB)
1/ea Reset button (2007-RB)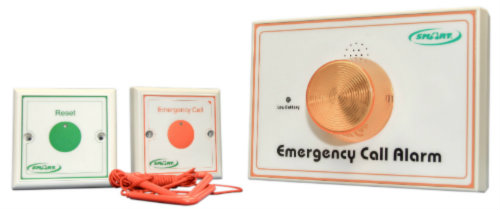 Benefits
Easty to Install - Each item can generally be installed in less than 5 minutes with the included screws. (2 screws per item)
Buttons are waterproof, so you don't have ot worry about mounting them in wet areas where they are truly needed.
Expandable - Do you have multiple stalls in your restroom? Need more pull-strings? No problem! You can use multiple pull corts per light, and even have multiple lights go off when the cord(s) are pulled.
In-expensive - Hardwired systems generally cost as twice as much or more than ours, and then you still have to pay an electrician to install a hard-wired system.
Audible & Visual Alarm - Light flashes when pull-cord is pulled, as well as sounds an adjustable alarm sound, so you're sure to always know when there is an emergency.
3D Spin

The wireless ECA alarm should be mounted in the hallway or nurse call station (not to exceed 150 ft.).
It features a flashing light and adjustable volume control.
Runs on 4 "D" batteries, or with optional wall power supply.
The wireless bathroom pull cord is completely waterproof, so it can be mounted within bathrooms, showers, as well as steam rooms. We have even seen them mounted to the ceiling above indoor jacuzzi and pools (note: you will need to extend the pull-string if you do this so that it will hang within reach).
Use multiple reset buttons and pull cords per light, or multiple lights per pull cord.
We can program them in almost any combination you'd like, so long as you have at least one of each component. The hallway alarm, 2007-ECA, can "listen" for as many pull cord alarms as you need, so you can expand your system by purchasing more bathroom pull cord (2007-CB) and reset button (2007-RB).
HUD Requirements for Emergency Call Systems:
The link below is to the page describing the U.S. Department of Housing and Urban Developing (HUD) Memorandum detailing the Office of Multifamily Housing Programs Policy on Requirements for Emergency Call Systems in Elderly Properties.