Description
The TL-2015R2-PK EliteCare+ Wireless Central Monitoring Package Nurse Station System is completely wireless and can be used with a large variety of peripheral devices, including bed and chair monitors, floor mats, door monitors, nurse call buttons, bathroom pull cords, and hallway emergency lights for a complete resident monitoring system in one wireless CMU. Up to 999 different devices can be monitored at one time using this system. This is perfect for any Nursing Home, Large Care Facility, or Assisted Living Faciility. It is a versatile system that can be used for anti-wandering, fall alerts, nurse calling, and much more. This top of the line wireless central monitoring system is a great addition to any facility that is looking to meet regulations and requirements and give the clients or residents it serves the best in quality care.
Benefits
Wireless- No expensive hardwiring or dangerous cords.
Many components - Customize the components to the central monitor that work best for your facility.
Quality - This is the top of the line in Wireless Central Monitoring Systems
Features
Wireless system
Easy to program with out hardwiring
Monitor 999 clients/residents with this central monitor
LCD screen that shows what device has triggered the monitor
Can alert a nurse pager
Provides detailed information, including location, about which sensor device triggered the alert
Optional TamperProof™ mode with included Caregiver Key™
Expandable wireless range with optional Zone Protectors
Store records of activity by resident name or room number
Optional battery backup
1 year warranty
Components that can be programmed to EliteCare:
Included With: TL-2015R2-PK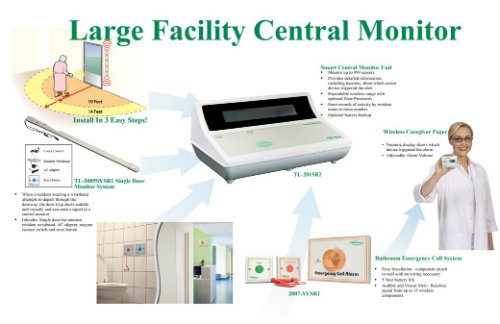 This package is Plug-and-Play out of the box.
All you need to do is decide how many of each component you want. The default package comes with:
Bedside call buttons/call bells
Bathroom pull-cord style alarms
Hallway alarms that go off when the central monitor receives an alarm
However, there are many other types of monitors as described above that you may expand and customize your system with. All the products on this page will work with the central monitor. Also please note that these components come complete with the necessary transmitters, reset buttons, etc. to work out-of-the-box, so if you are comparing prices with other websites please take into account that we have grouped the necessary items to make it easier to order.
HUD Requirements for Emergency Call Systems:
The link below is to the page describing the U.S. Department of Housing and Urban Developing (HUD) Memorandum detailing the Office of Multifamily Housing Programs Policy on Requirements for Emergency Call Systems in Elderly Properties.