Description
The
Nurse Pager with LCD Screen TL-2016P
works with the Fall Monitor
TL-2016R
and the EliteCare+ Central Monitoring System
TL-2015R2
. It allows caregiver to maintain freedom to attend to other residents because the monitor has the ability to send a
wireless signal to the pager
which the nurse can carry with them. When a resident gets up off the bed pad, chair pad, or floor mat the Monitor is triggered and it rings to the pager to notify the caretaker. The
tone and volume are adjustable
to fit the caretakers preferences and it has an easy to read
LCD screen
which illuminates for night time use. This is a great pager for any in-home, LTC, Skilled Nursing or Assisted Living Facility.
Benefits
Simple and Easy to use - This pager and monitor system is versatile and can be used for in-home care or in a larger facility.
Wireless Signal - Nurse can use pager to be notified when monitor is set off with no need for a noisy central monitor.

Affordable - A great system to monitor a loved one or resident at an amazing price!
Compatible Components and Systems
TL-2016R Wireless Fall Monitor
TL-2015R2 EliteCare+ Central Monitoring System
Corded Chair Pads and Bed Pads
Floor Mat
Landing Mat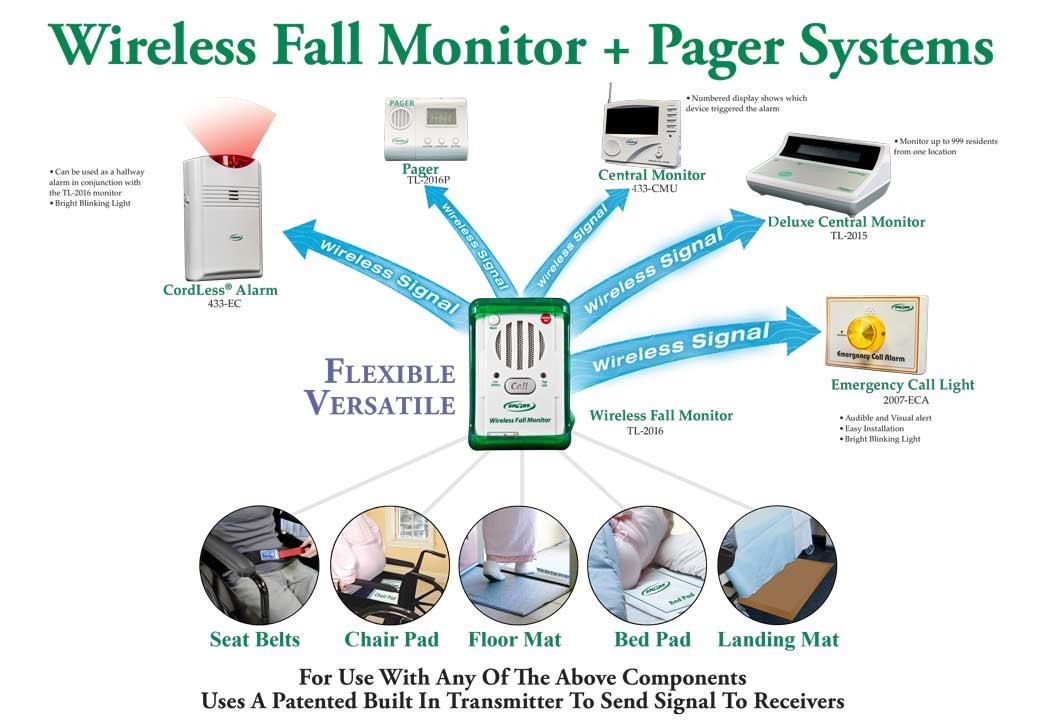 Features
Caregivers can eliminate in room alarm noise and receive alerts by pager with no central monitor required
Audible Signal Notification
Aids with fall risk assessment
Battery operated (2 AA not included)
Low Battery notification
Adjustable volume
Multiple alarm tones
6 Month Warranty
Included With TL-2016P