Description
The EconomyCare+ Wireless Nurse Call System is a central monitor system that is programmable for up to 40 nurse call buttons (433-NC), motion sensors, bed and chair pressure pads, and more. The EconomyCare+ Central Monitor (433-CMU) alarms audibly and visually on the LCD display which resident originated the alarm. This is a wireless alarm so you can put it anywhere and it will reach up to 250ft. You do have the option of using a AC-04 adapter or 4 C" Batteries. The 433-CMU has many different languages if you need someone else to understand. It is very good on your wallet also for all the features included with the system it is the cheapest priced Cental Monitoring Unit on the market.
Benefits
Wireless - The 433-CMU is wireless up to 250ft
Programming - You can choose what you want to program on this system up to 40 components
Economy Care - When you purchase this unit you are saving hundreds of dollars with our affordable pricing.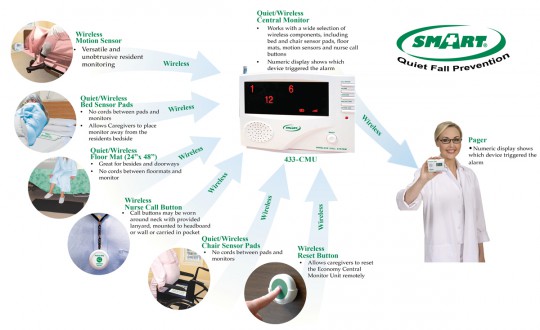 Included With: 433-CMU